PUMPKIN BREAD
This classic pumpkin bread recipe will make 3 large or 4 medium sized loaves, plenty for family and gifts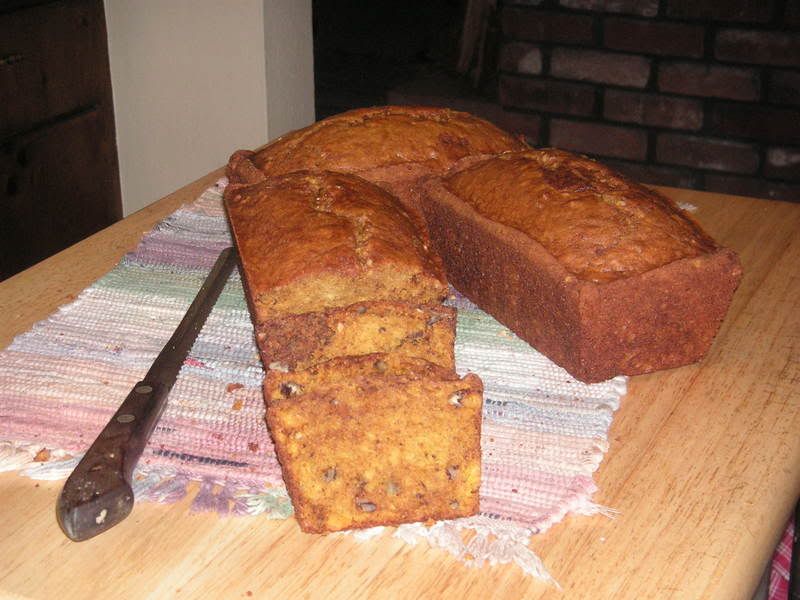 4 1/2 C. sugar, white, brown, Sucanat, or combination
1 1/2 C. vegetable oil
6 eggs
2 tsp. nutmeg
2 tsp. cinnamon
1 TB salt
3 C. canned pumpkin
1 c. water
1 1/2 tsp. baking soda
3/4 tsp. baking powder
4 1/2 C flour

Combine first eight ingredients and beat one minute. Stir together the flour, soda and baking powder, then add to wet mixture. Stir all ingredients until well-combined. Pour batter into loaf pans or muffin tins. Bake in 325° F oven for 50-60 minutes (regular sized loaf pans). Decrease baking time for muffins and mini-loaves. Test for doneness, cool five minutes in pan and finish cooling on a wire rack. Wrap completely cooled product in plastic wrap or bread bags for storage.

Variation: Add 1-2 C. chopped nuts and,or raisins to batter before baking.