HOLIDAY TIPS: A HOLIDAY MENU

Mixed Greens With Cranberry Dressing

Ingredients:
5 cups mixed greens, herbs and lettuce
1/4 pound blue cheese, crumbled
1 red onion, very thinly sliced
1/3 cup coarsely chopped walnuts
Dressing:
1 cup fresh cranberries
1 seedless navel orange, peeled and sectioned
2/3 cup granulated sugar
1/2 cup wine vinegar
1 tsp salt
1 tsp. ground mustard
1 cup olive or vegetable oil

In a blender, combine the cranberries, orange sections, sugar,
vinegar, salt, and ground mustard. Process till combined. Then
remove the blender cover and gradually add oil in a steady stream. Set aside. Rip all of the greens into bite size pieces. I like using an assortment of spring or baby greens along with romaine lettuce, spinach and herbs such as sprigs of dill, basil, and cilantro. To assemble, place a handful of the salad mix on a plate or in a bowl, and top with some of the cheese and the walnuts. Pass the dressing
to guests to drizzle over the salad.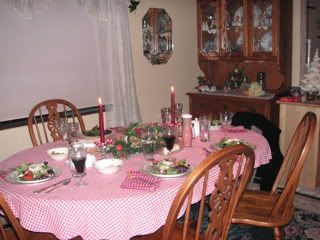 Roast Turkey with Cranberry Honey Glaze
Ingredients:
1 cup jellied cranberry sauce
1/4 cup honey
1/2 tsp. dried rosemary
1 (8 to 12-pound) fresh or frozen turkey, thawed
1 fresh lemon
salt, pepper to season
Make the glaze by combining the cranberry sauce, rosemary and honey
in a small pan. Cook over medium heat just until the sauce is smooth,
whisking frequently. Set aside. Remove turkey from package and take
out the neck and giblets from cavity. Rinse the turkey with cold water
and pat dry. Tuck wing tips under back or tie to body. Fasten the legs
with a metal or plastic clip or band of skin-usually whatever was holding
it in the first place is fine. Preheat oven to 350 degrees F. Thinly slice
the lemon. Loosen the turkey skin towards the front of the breast. Using
a wooden spoon to lift skin, gently slide the lemon slices under skin on
both sides of the turkey. Place turkey breast-side up on wire rack in
shallow roasting pan. Brush turkey with cranberry honey glaze.
Roast turkey uncovered until skin browned, then cover loosely with a
tent of aluminum foil for the remaining time. Continue to baste with
cranberry glaze during cooking. Roast until a meat thermometer reaches
180 degrees F, about 2 3/4 to 3 hours. Remove from oven; let stand 20
minutes before carving. Makes 12 to 14 servings.
Garlic Mashed Potatoes
Ingredients:
1 pound red potatoes
3 Tbsp. butter
1/4 cup Half and Half or cream
4 cloves Roasted Garlic
Bake the potatoes in a 350 degree oven for about 30 minutes. At the
same time roast the garlic. First slice the top of the garlic bulb so the
cloves are exposed slightly. Place on a double piece of foil, drizzle
with a little olive oil. Wrap and place in the oven for 15-20 minutes
till soft. Remove potatoes from oven and allow them to cool. Remove
peels if you desire or leave on. Chop the potatoes into a bowl, add the
butter and the cream or Half and Half. Mix with an electric mixture
till combined but don't over mix---lumps are okay--if you over mix
the texture will change. Squeeze the roasted garlic from the cloves
and add to the potatoes--season with salt and pepper and mix in. You
can warm these up again right before serving.
Brussel Sprouts with Onions
Ingredients:
30-40 brussel sprouts
1 large sweet onion, finely diced
4 tbsp. white wine, herb vinegar or wine vinegar
2/3 cup chicken stock
8 tbsp. butter, divided
salt and pepper
Cut the stem ends off the sprouts and remove any leaves that are
loosened. Cut the spouts in half. Heat 4 tbsp. of the butter in a
pan over medium heat and saute the onion till soft. Add the wine
or vinegar and season with salt and pepper. Cook for 2 minutes,
then add the chicken stock and the brussel sprouts. Cover, and
simmer for 10-15 minutes or until the sprouts are tender. Add
the remainder of the butter and stir till melted. Serve.
Cranberry Apple Pie
Ingredients:
20 gingersnap cookies
1 1/2 tbsp. margarine
2 apples, peeled and cored
1 cup fresh cranberries
5 tbsp. dark brown sugar
1/4 tsp. vanilla extract
1/4 tsp. ground cinnamon
1 tsp. granulated sugar
Preheat oven to 375 degrees F. Place gingersnaps and margarine
in food processor; process until ground. Press the mixture into
an 8" pie plate. Bake the crust 5-8 min; remove and cool. Chop
the apples in food processor. Add the cranberries, brown sugar,
vanilla and cinnamon; pulse until just mixed. Spoon the apple
cranberry filling into another 8" pie plate that has been sprayed
with cooking spray but not filled with crust. Sprinkle the fruit
mixture with granulated sugar. Bake 35 minutes or until tender.
When the filling is done spoon it into the cooled crust. Serve
warm with whipped topping.
Caramel Pecan Pie
Ingredients:
1 (9-inch) pie crust
1 cup brown sugar
3/4 cup butter
1/2 cup honey
3 tablespoons granulated sugar
1/2 cup heavy cream
1/4 teaspoon vanilla extract
3 cups pecans (toasted and chopped)
Prebake the pie crust for 12 minutes at 350 degrees F and cool. In a
heavy pan combine the sugars, butter, and honey. Cook over medium
heat, and stir only until melted. Heat until mixture reaches 240 degrees
F on a candy thermometer. Remove from heat and stir in heavy cream
and pecans. Pour into baked pie shell and bake for about 30-35 minutes.
Author, Brenda Hyde is a wife and mom to three who lives in the winter wonderland of Michigan. She is a freelance writer and editor of OldFashionedLiving.com. Reprinted by Permission from www.oldfashionedliving.com.
For more information, contact me at marilyn@urbanhomemaker.com or call 1-800-552-7323. Sign up for our complimentary bimonthly newsletter here.