We, at The Urban Homemaker, don't advocate complicated or expensive holiday celebrations, and wish to encourage your family to focus on the true meaning of the holiday season.
However, this twelve-week simplified timetable could be used as a checklist and is designed to be flexible in order to assist you in focusing in on your family's priorities for Thanksgiving, Christmas. We believe holiday planning promotes order and harmony, offering you time to evaluate what is really important to your family.
Remember, the timetable is merely a suggestion; rearrange, add, or delete activities from the schedule to meet the needs of your family. The timetable is below.

Last year, Sheri Graham wrote The 12 Week Holiday Planner for The Christian Family So you Can Keep Your Focus on Jesus for the Holiday Season based on my Holiday Timetable!
Sheri says, "My desire in putting together this eBook is to provide a tangible way for you to plan out your holidays so they are enjoyable, less stressful, and more filled with the things that really matter."
Marilyn Moll's Holiday Timetable:

Week #1 - List Week Oct 3- 8
Make your lists of gift recipients, Christmas cards, menus for Thanksgiving, Christmas, and New Year's, goodies to share or to give, favorite meals to prepare ahead, decorations needed, gifts to make.
Week #2 - Browse Week Oct 10-16
Develop and record ideas for gifts, decorations. Ask yourself the following questions:
* What would our ideal Christmas be like?
* What activities are particularly important to our family at Christmas?
* How much emphasis do our Christmas activities place on the spiritual side of Christmas?
Week #3 - Supplies Week Oct 17-23
After inventorying supplies on hand, purchase non-perishables needed for holiday baking, and supplies needed for gift making,, gift wrapping, etc.
Week #4 - Baking Week: Oct 24-30
Set aside the time needed to complete holiday goodie making. Make lists of toys, books, and clothes that children would enjoy. More...
Week #5 - Gift Making Week Oct 31 - Nov 6
Focus your energies on completing gifts to be made. More...
Week #6 - Shopping Week #1 Nov 7-13
Decorate your home for Thanksgiving and focus on gift buying for prepared list. Wrap and label packages as you go. More...
Week #7 -Shopping Week #2 Nov 14-20
Complete as much shopping as possible. Take advantage of many items that are on sale before Thanksgiving! More...
Week #8 - Thanksgiving Week Nov 21-27
Use this week to prepare Thanksgiving dishes, pies, homemade rolls, and enjoy the holiday with your family. Marilyn's Traditional Thanksgiving Stress Free Plans and Easy Recipes for Busy Moms are at this link.

Start the Jesse Tree Devotional readings by Ann Voskamp. The Jesse Tree Devotional is different than advent as it tells the whole story of the coming of the Savior starting in the book of Genesis. The devotional includes 30 readings culminating with the birth of Christ. If you purchase the Planner you will get all the devotionals plus the beautiful, colored ornaments designed to be hung on a branch or a tree. The ornaments are a terrific, hands-on way for the children to remember each bible story leading up t o the birth of Christ.
Week #9 - Mailing Week Nov 28-Dec 4
Complete package wrapping for gifts to be shipped...More.
Week #10 - Meal Making and Decorating WeekDec 5 -11
Prepare some favorite meals and other baked goods for the hectic days ahead. Decorate. Involve children in memory making! My recipes for Beef Burgundy and Honey Glazed Chicken and other reliable family favorites can be downloaded at this link.
Week #11 - Final Shopping/Wrapping Week Dec 12-18
Complete last minute details and enjoy holiday parties, concerts, and family activities. For quick and easy cookie recipes Click Here.
Week #12 - Enjoy Your Christmas Celebration Week Dec 19 - 25
Enjoy the Holidays with Family and Friends! Take time to drive the neighborhoods to enjoy holiday lighting displays. Enjoy family traditions and special meals. A complete holiday menu with delicious recipes is found at this link.
Some of information included in The 12 Week Holiday Planner for The Christian Family book:
*Detailed ideas of what to do weekly for 12 Weeks

*"Sheri's Tips"- tips to make your holidays meaningful
*Christmas Craft and Gift Ideas
*Memory Making Ideas for the Family

*Ideas for Baked Items to Share/Give Away
*Ideas for Meals to Freeze for Use during the busy weeks
*Decoration Ideas
*Supplies to stock up on ahead of time or when on sale

*Ideas for a Holiday Baking Schedule
*Kids' Gift Idea List
PLUS!!! "The Glorious Coming: A Jesse Tree Celebration of Advent" - Jesse Tree devotionals
If you would like to get more ideas of how to focus on Jesus as the reason for the season be sure to join our discussion!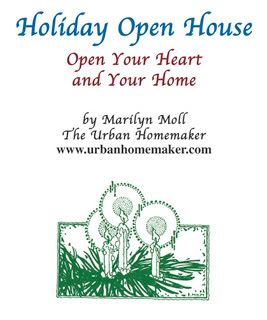 The perfect companion to The 12 Week Holiday Planner is Holiday Open House - Open Your Heart and Your Home. This ebook includes all the information you need to pull off a gracious, memorable open house or party.
Some of the information in this ebook includes:
* How to Plan your Occasion, step by step, after the date is set
* How to Decorate Creatively on a Dime
* Planning the menu for your event
* Appetizer Recipes, both hot and cold
* Dip Recipes
* Serving Suggestions
* Sweets and Treats
* Marilyn's Christmas Cookie Recipe Assortment
* Beverage suggestions and recipes
* Encouragement