Fresh and Wyld Farmhouse Inn and Gardens AKA The Farmhouse, Paonia, Colorado

Great recipes for using seasonal veggies like Chard, Kale, Corn, and Zucchini follow: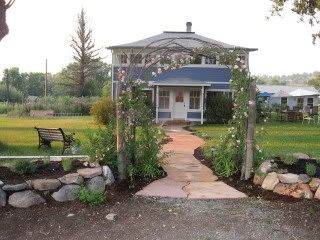 The following recipes are courtesy of renowned Aspen Chef Dava Parr (Paonia, resident). Chef Dava was pleased to share her delicious recipes with us and The Rocket (also known as Arugula) Salad was totally awesome! I learned that I can roast zucchini in the oven instead of saute it, and I must say I love it this way! Learn something new everyday!

Rocket and Roasted Summer Squash Salad
This is also a great way to use up leftover corn on the cob. Although I don't have any arugula growing in my garden today, I think it isn't too late to plant for a Fall harvest.

Roasted Summer Squash
Preheat oven to 425
1 yellow summer squash
1 Zucchini
¼ onion, chopped
½ clove garlic, crushed
3 T olive oil
Salt & Pepper
1/2 tsp Paprika
Combine all the ingredients above and roast for 25-30 minutes.
Arugula Salad
5 oz baby Rocket (arugula), chopped a couple times
3 ears of corn, shucked off the cob
2 oz Goat cheese
Salt & Black pepper
Dressing
1 tsp Lemon juice
2 tsp Nama Shoyu or other good soy sauce
1 tsp Balsamic Vinegar
2 tsp Extra Virgin Olive Oil

Whisk everything together in a little bowl or shake up in a pint jar. Lay arugula on platter, sprinkle corn and goat cheese over the top. Spoon roasted squash over Rocket, (arugula) and pour dressing over the top. Serve.
Chorizo & Chard Omelet
¼ # chorizo, crumbled
¼ cup thinly sliced onion
½ clove garlic, crushed
2 cups chard, chopped in small pieces
1 cup grated zucchini
3 eggs beaten w/ 1 T Cream
½ cup grated Jarlsberg
Sauté Chorizo with onion, garlic, chard and Zucchini over med-high heat. Spoon into a bowl and set to the side.
Raw Kale Salad
1 bunch of Kale cut in chiffonade (Strips as thin as your knife can cut, think shredded paper)
1 tsp garlic, crushed
½ cup raw pine nuts
½ cup raisins
½ cup grated Parmesan
Sea Salt & Black Pepper
3 T olive oil
Juice of 1 lemon squeezed
Blend everything together with your fingers until it is well mixed. Let sit for 20 minutes at room temperature.
Stewed Tomatoes and Green Beans
1 pound green beans, steamed until almost done
1 T olive oil
1 clove of garlic, crushed
1 cup of chopped tomatoes
1 tsp fresh oregano or ½ tsp dried oregano
½ cup nicoise olives, optional
1 tsp capers, optional
Pinch of crushed red pepper
Juice of half a lemon
Sauté garlic and steamed grean beans in olive oil for a couple of minutes. Add tomatoes, oregano, red pepper flakes and lemon juice. Let stew for a few minutes over low heat.
Serve with a little Parmesan over the top if you like.
Fresh and Wyld Farmhouse Inn and Gardens
Tucked into a serene corner of Colorado's North Fork Valley, near charming little Paonia—and 10 million miles from city life—our lovingly restored 1908 farmhouse inn and gardens is a great way to caress, de-stress, and decompress yourself while enjoying a rural lifestyle in total comfort. Innkeeper Dava Parr (a renowned Aspen chef) prepares cutting edge comfort food for breakfast and weekend dinners from fresh, local, organic meats and produce grown right on our own four acres or from one of the many farms in Colorado's most active natural farming region.

Call us for reservations (we limit the number of guests so everyone gets a lot of attention) and keep us in mind for weddings, reunions, and other events. Fresh and Wyld Farmhouse Inn & Gardens is Colorado's top destination for good food, deep rest, and country lifestyle—we're sure looking forward to taking care of you! Call today for reservations - room types vary in price and range from $90 to $135 per night. 970-527-4389 We look forward to hosting you!