Cheesy Tortellini Bake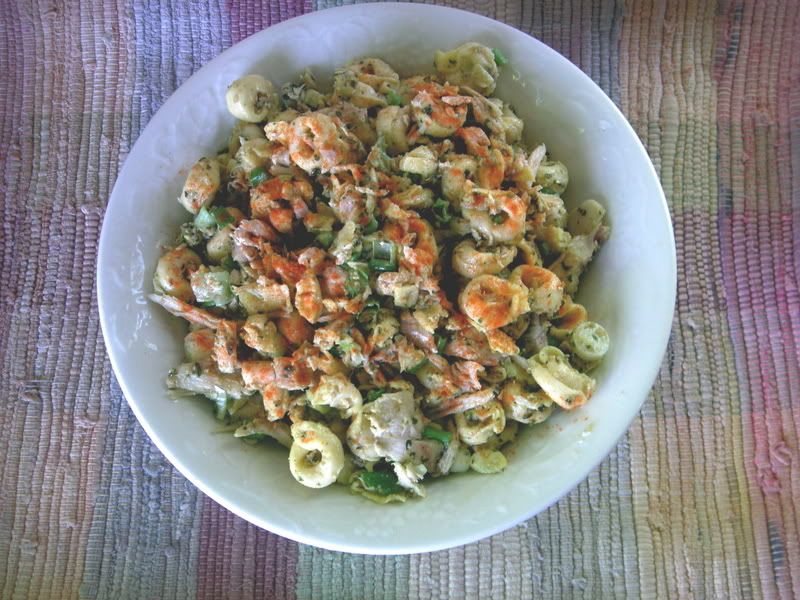 Tortellini Salad with Pesto

The pesto packs sensational taste when mixed
with pasta. This salad goes together in minutes,
if tortellini is prepared ahead of time
Add diced cheese or chopped leftover chicken or turkey for a complete meal.


3-4 Cups Tortellini, cooked and chilled
1/2 Cup chopped red onion
1/2 Cup Pesto, or to taste
1 cup chopped red or green pepper, opt
2-4 TB Marilyn's French Dressing, opt
4-6 Cups torn salad greens such as romaine, red leaf lettuce
salt and pepper to taste

Combine ingredients in a mixing bowl. Stir to blend all ingredients.
Taste, and adjust salt and pepper to taste.

This recipe has been reprinted from Sensational Summer Salads by Marilyn Moll.
Leftover Tortellini or other pasta makes a great main dish Pasta Salad.

Cheesy Tortellini Bake

Everyone loves an easy pasta casserole
2-3 Cups Tortellini, cooked, or other leftover pasta
1 onion, chopped
2 Tbsp olive oil
2 cloves garlic minced
2 tsp basil
1 tsp oregano
1 lb hamburger or Italian sausage, optional
2-3 Cups Spaghetti Sauce
1-4 oz can sliced mushrooms,drained
2 Cups Mozzerella, shredded
Saute chopped onions in olive oil until wilted, brown hamburger or sausage with sauteed onions, add minced garlic, basil, and oregano when hamburger is browned. In a medium mixing bowl, combine spaghetti sauce, Tortellini, and mushrooms, and onion/meat mixture. Pour into a 7 X 11 casserole dish. Top with cheese. Bake covered for 20 minutes, uncover, and bake until bubbly about 10-15 more minutes at 350°F. Serve with steamed kale or spinach.
---
Link:

---