Top Level Category
Table of Contents
---
Top Level Category
Parent category to all other categories
There are no articles in this category.
---
Recipes
We are delighted to share many of our Family Favorite Recipes with you!
5 QUICK AND HEALTHY DINNERS WITH.....CANNED CHICKEN
Meal #1: Chicken salad sandwiches.
Talk about quick! All you need to do is drain and flake the chicken,
add just enough mayonnaise to coat, seasonings to taste (I like basil,
onion powder, garlic powder), and chopped celery, halved grapes or green
olives if desired. Serve on bread, toast, tortilla, a 'light' hamburger
bun, a bagel, or whatever you like! I like to serve vegetarian baked
beans and a salad for side dishes.
Meal#2: Quick burritos.
Simply place chicken, black or fat-free refried beans, lowfat cheese and
chopped cilantro (if you have some) in a reduced fat tortilla. Heat in
microwave. Top with salsa and light sour cream and enjoy. [If you're
cooking for a crowd, heat up ingredients separately and build burritos
all at once. Serve with fresh watermelon slices.
Meal #3: Chicken Pasta Salad.
Simply boil pasta shells (or other pasta) according to package directions.
Drain and run under cold water until cool. Toss with drained chicken
breast, light mayonnaise, chopped veggies (red bell pepper, onion, celery,
carrots) or grapes, and seasonings. Eat immediately or chill until ready
to eat. Serve with whole grain rolls.
Meal #4: Chicken and Green Chili Quesadillas.
Heat a nonstick skillet and spray with cooking spray. Add tortillas,
top with reduced fat cheese, chopped green chilies, drained chicken breast,
and another tortilla, spray with cooking spray. Cook, flipping once, until
both sides are lightly browned and cheese is melted. Optional: Add saut�ed
bell peppers, onion and/or mushroom to quesadillas with other ingredients.
Serve with light sour cream, guacamole and salsa. Optional side dish: Brown
rice with chopped cilantro and lime juice.
Meal #5: Greek Chicken Salad.
Start with a bowl of torn romaine lettuce. Add drained and flaked chicken
breast, chopped tomatoes and cucumbers, a small amount of chopped kalamata
olives and feta cheese and dried basil. Toss with a splash of olive oil
and red wine vinegar. Optional side dish: Spray pita wedges with cooking
spray and sprinkle with garlic powder, broil until crispy.
This is just the beginning of ideas for using this convenient meal-starter.
Canned chicken, and also rotisserie chicken, can be used in most recipes
calling for cooked chicken. Keep a few cans in your pantry and you can
whip up a healthy meal in minutes!
Erin Rogers is author of HEALTHY EXPRESS COOKBOOK: 101 FRESH, LIGHT & QUICK DINNERS. A downloadable recipe 20 recipe sampler from Erin called 20 FRESH, LIGHT & QUICK DINNERS is available at this link.
� Health-E-Meals.com, 2005
7 Reasons Why Meal Planning Is A Great Idea
7 Reasons Why Meal Planning Is A Great Idea

Planning meals ahead of time is a great idea, since there are many benefits that come along with it. Meal planning affects many different aspects of life, including your time as well as your financial situation. No matter what situation one may be in, planning your meals ahead of time is always a good idea. Meal planning makes it possible for almost any size family to eat healthy meals everyday of the week on a budget. It also gives you more time together as a family while spending less money.
Saves Time
Planning your meals ahead of time will save you a lot of time. When you visit your grocery store, take a list with you that shows everything you need for your weekly meals. This way there will be no return visits to the grocery store for something you forgot, and you won't waste any time deciding what you are going to have for dinner that night. Forgetting a key ingredient or having to fight in long lines at the grocery store can be very frustrating, but meal planning can completely eliminate that.
Saves Money
Who doesn't like to save money? And if you can reduce the amount you spend on grocery bills, you can save it up for something really fun – like a special night out or a family vacation. Meal planning saves anyone a significant amount of money, since meal planning is much cheaper than eating fast food. Also, since you will be bringing a shopping list with you to the grocery store, there will be no more impulse buys and wasted food. We've all fallen victim to foods that we suddenly have a craving for when we are shopping only to get home and realize that we need other ingredients to turn it into a meal. And having a shopping list will make it easier for you to clip coupons, since you know what you will be purchasing each week. This means even more savings to you and your family.
Meal planning allows you to create a calendar of what you will have for dinner each night. If you create a menu one month at a time, you can ensure that you aren't having chicken nuggets five nights a week. Have an overall calendar of meals will allow you to shop for foods when they are on sale and buy in bulk whenever possible.
Health
Planning out what you are going to cook for dinner will make it possible to ensure you are cooking a healthy meal every day of the week. While eating out is convenient in our ever busy world, eating fast food or at restaurants is not nearly as healthy as cooking it at home. This is largely due to the fact that you don't have control over what goes in those meals. By preparing your own meals, you can choose healthy options, like baked chicken, and add any of your favorites for a side like a fresh green salad or steamed vegetables. Most boxed or frozen dinners contain a great amount of fat and sodium, but cooking the meal from scratch can eliminate them. You control the flavor and the fat. You can take steps to reduce the amount of fat by adding seasoning and spices to perk up the flavor.
Prevent Obesity
The rise of fast food chains in the world means that more people are becoming overweight and obese. Obesity can bring on many health issues, including heart or breathing problems. It is important to prevent a child from becoming overweight and teach them the importance of balanced meals. Cooking homemade healthy meals can do this. When you plan out what you are going to make, you can be certain that it will be healthy for the entire family. It allows you to have a better handle on the nutritional content of your meals. You can also tailor it to each family member's needs. If there is someone who needs to watch their fat consumption, you can cook grill or broil instead of fry. If there is someone that is trying to get more servings of vegetables in their diet, you can help by offering two veggies for side dishes.
Spending More Time With Your Family
Because planning out your meals gives you more time during the day, you can spend it doing something that really matters. Spending time with family should be the first thing on anyone's priority list, and being able to spend more time with them is a wonderful perk to meal planning. You can use this time to either play with your children outside, or maybe talk with your spouse about their day at work. With the time saved with meal planning, the family can enjoy a walk together after dinner, play yard games such as croquet or bocce ball, or compete in a board game night. No matter how you use the time, it is special and necessary to keep a family running. And when you kids are grown up and look back on their childhood, those will be the times they remember most fondly. Just think about all the home cooked meals that you look back on warmly. No one cooks it like mom does.
Teaching Essential Skills
By including children in the meal planning process, they can learn many skills that will carry with them into adulthood. They can help to plan the meals, and learn about the different nutrition groups. Learning how to assemble a balanced meal is a great skill to have. Measuring different ingredients in the meals teaches children about fractions. Younger kids can just play with the different kitchen utensils, which allows them to explore and learn about the huge world they have yet to explore and learn about. Spouses can get in on the fun, making it possible to bond with one another by cooking a meal for each other. Meals where each person can individually tailor food to their liking, such as making your own pizzas or a taco bar, allow a great opportunity for the whole family to cook and learn together.
Reduces Stress
Our world is hectic. We are being pulled in several different directions each day. Because we live in a fast paced world, it is important to do everything possible to reduce your stress load. We have enough stress with our every day lives without mealtime stressing us out. Planning meals can reduce your stress since you won't have to worry about everything that goes into making a meal for your family. As long as you bring your list to the store and buy everything on the list, you will be all set. You can choose to either visit the store each week or twice a month, rather than a million times like before. The increased time you have will allow you to relax more often, and even feel great when interacting with your children. If you are enrolled in a food delivery service, having a handy list makes online shopping a breeze. Have it with you when you log in to order food and you won't have to worry about a thing.
As you can see, there are many benefits to meal planning. From the ever crucial facts of saving money and eating healthier, to reducing stress and spending more time with your family. Meal planning only takes a little extra effort. And once you get the hang of it, it'll become second nature and make you life so much easier. You'll be wondering why you hadn't started meal planning earlier. And will all the time and money you save you can spend on something that really matters – your family!
A Week's Menu with Recipes
A Sample Week Of Menus And Recipes based on

Fast and Healthy Menus for Busy Moms ebook by Marilyn Moll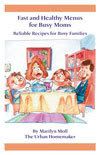 Monday:
Roasted Chicken
Roasted Vegetables
Applesauce
Tuesday:
Meatballs over Brown Rice
Maple Balsamic Carrots
Sliced Pears
Wednesday:
Baked Salmon
Green Beans
Sliced Tomatoes on Lettuce leaves
Basic Drop Biscuits
Thursday:
Chicken Divan (from left-over roasted chicken)
Corn
Green Salad
Friday:
Spaghetti with Marinara Sauce served with
Parmesan Cheese
Large Spinach Salad with Italian Dressing

Roast Chicken
(Leftover chicken will be used with Thursdays dinner or frozen)
2-(3-4 lb.) chickens
4 tbsp. olive oil
1- 2 whole garlic bulb, optional
4 tbsp. minced fresh thyme or 4 tsp. dried, crumbled
2 tbsp. chopped, fresh rosemary or 2 tsp. dried,
crumbled, optional
1 tsp. salt
1 tsp. pepper
6-8 med. red potatoes, quartered
6-8 carrots, peeled, halved lengthwise, cut into 3" long pieces

Preheat oven to 350�F. Rub each chicken with 1 tablespoon oil. Slice garlic bulbs in half and then place garlic in chicken cavities. Mix 2 tablespoons thyme with rosemary, 1/2 teaspoon
salt and 1/2 teaspoon pepper. Rub herb mixture over chickens. Place chickens in large roasting pan. Surround with potatoes and carrots. Drizzle remaining 2 tablespoons oil over vegetables. Sprinkle vegetables with remaining 2 tablespoons thyme, 1/2 teaspoon salt and 1/2 teaspoon pepper. Roast chickens until juice runs clear when thickest part of thighs is pierced, about 1 hour and 10 minutes, turning vegetables occasionally. Transfer chickens to platter and tent with foil. Increase heat to 400�F. Continue roasting vegetables until tender, about 15 minutes, if needed.

Drain pan juices to make gravy, if desired, or save juice for adding to stock. The aroma of this dish is wonderful, and the blends of different herbs compliment one another. De-bone leftover chicken and store in the refrigerator for Thursday night's dinner. Reserve all the leftover
chicken bones to make chicken stock in the crockpot overnight or the next day.
Serves 4-6 depending on serving size and chicken size.
Beef Meatballs in Kofta Sauce
Kofta Sauce seasoned with Garam masala is easily found in health food stores, is delicious and easy to make and is one of our most favorite family recipes.

2 pound of ground beef or lamb
2 medium onions, finely chopped
2 cloves garlic, crushed
1 tsp. finely grated fresh ginger or 1/2 tsp. ground
ginger
1 small green or red chile, seeded and finely chopped,
opt.
3 tsp. Real Salt or sea salt
2 tsp. garam masala
2 eggs
1/2 cup Mary's Oil Blend (see pg. 13), butter, or ghee
Kofta sauce (recipe follows)

Mix all ingredients except the oil in a large bowl and form into small balls. Heat oil blend in a large skillet over medium-high heat. Fry meatballs about 5 minutes on each side until golden brown or bake in 350? oven until browned. Drain on paper towels. Simmer in kofta sauce for 10 minutes .
Kofta Sauce
(VERY easy, and outstanding flavor)
4 tbsp. Mary's Oil Blend (see pg. 13), butter, or ghee
4 medium onions, chopped
4 cloves garlic, finely chopped
2 tsp. turmeric
2 tsp. chili powder
2 tsp. garam masala
4 tomatoes, chopped
2 tbsp. fresh lemon juice
2 tsp. sea salt
2 cans whole coconut milk

Place oil blend or butter in a large saute pan over medium heat. Add onions and garlic and saute until golden, about 10 minutes. Add turmeric, chili powder, and garam masala and cook, stirring about 1 minute. Add tomatoes, lemon juice, and salt. Stir in coconut milk. Add meatballs to the sauce, cover, and simmer 10 minutes. Serves 8-10. Serve over brown rice (make 2 cups extra for tomorrow night's dinner). This recipe is from Eat Fat, Lose Fat p. 142. Reprinted by permission.
Easy Chicken Divan
Use leftover diced chicken pieces from Monday, or out of your freezer.
1 - 20 oz pkg of frozen broccoli, chopped or 2 -10 oz
asparagus spears
1/2 cup buttermilk
1 cup cottage cheese
2 tsp. lemon juice
1/2 tsp. curry powder (I use 1 tsp. curry), optional
1 1/2 cup cream of chicken soup (homemade white
sauce or canned)
2 cups cooked brown rice (leftover from Beef Meatballs
from Tues. night)
2 cups cooked, diced chicken
2 slices whole wheat bread
2 tbsp. Parmesan Cheese

Slightly cook broccoli or asparagus. Drain well. Place buttermilk, cottage cheese, lemon juice and curry powder in blender. Blend until cottage cheese is smooth. Add cream of chicken soup and pulse to mix well. In large baking dish, layer half the soup mixture, rice, chicken and broccoli. Top with remaining soup mixture. Place bread and cheese in blender. Pulse to make fine bread crumbs. Sprinkle over casserole. Cover and bake in a 350�F oven for 25-30 minutes. Uncover and bake 5 more minutes or until hot and bubbly.Yield - six servings. The original recipe comes from Set for Life on p. 43 and is reprinted by permission.

Easy Italian Tomato Sauce
This is the easiest, most flavor-packed Italian sauce ever!

2 - 14 1/2 oz cans Diced Canned Tomatoes or fresh
equivalent
1 red bell pepper, optional
1/2 cup loosely packed fresh basil or 2 tsp. dried
2 long stems fresh oregano, or 1 tsp. dried
2-4 tbsp. olive oil
2-4 cloves garlic, crushed
1/4- 1/2 tsp. black pepper, fresh ground if possible
1/8 tsp. cayenne or 1/4 of jalapeno
1 tsp. Real salt
1 - 6 oz can tomato paste or 1 cup sun dried tomatoes
1 tsp. onion powder
2 tbsp. Sucanat or 8 dates without pits
1 tbsp. Naturally Fermented Soy sauce
1 tbsp. red wine vinegar, optional
2-4 tbsp. pine nuts, optional

Puree in blender for about a minute. Add 1# browned ground beef, if desired, into the sauce and heat in a saucepan before serving over hot pasta. Try serving this sauce over spaghetti or
oriental pasta prepared with brown rice or buckwheat flour which is more nutritious and easier to digest than traditional wheat pasta.
Anzac Biscuits
Named for the Australia and New Zealand Army Corps (ANZAC), which fought in World War I. This recipe is courtesy of my daughter, Laura.

2 C. rolled oats
11/2 C. unsweetened shredded coconut
11/2 C. all-purpose flour
2 C. Sucanat - (or sugar)
1 C. butter, softened
2 TB honey
6 TB boiling water
4 tsp baking soda

Measure oats, coconut, flour, and sucanat (or sugar) into a medium-sized mixing bowl: toss to mix.
Melt butter and honey.
Pour boiling water over baking soda and stir to dissolve. Add to the melted butter mixture.
Pour the butter mixture over the mixed dry ingredients; mix well.
Heat oven to 300 . Grease cookie sheets and drop teaspoonsful of dough onto prepared baking sheets. Bake 10-12 minutes, until crisp and golden brown.
Cool cookies on baking sheet 1-2 minutes then remove with spatula and cool on wire racks.

Reprint Permission Granted with the following information:

Copyright The Urban Homemaker 2004, "old fashioned skills for contemporary people".

Free 64-page catalogs are available by request at http://www.urbanhomemaker.com/catalog
Basic White Sauce Cream Soup Alternatives
Basic White Sauce

Cream Soup Alternatives




Thin Medium Med-Thick Thick




Butter 1 T 2 T 3 T 4 T




Flour 1 T 2T 3 T 4 T




salt ¼ t ¼t ¼ t ¼ t




Milk, stock,

or Combo 1 C 1 C 1 C 1 C




Instructions:




Melt butter in heavy saucepan. Blend flour and salt into saucepan while cooking and stirring until bubbly. using a wire whisk to prevent lumps, stir in liquid ingredient choice slowly. Medium thick sauce is comparable to undiluted condensed soups and makes approximately the same amount as a 10 oz can.




Variations:




Cheese Sauce: Add ½ C grated sharp cheese and ¼ tsp mustard




Tomato Sauce: Use tomato juice as liquid and add a dash each of garlic powder or garlic salt, onion powder or onion salt, basil and oregano.




Mushroom Sauce: Saute ¼ C finely chopped mushrooms and 1 Tbsp finely chopped onion in the butter before adding the flour.




Celery Sauce: Saute ½ Cup finely chopped celery and 1 Tbsp finely chopped onion in butter before adding flour




Chicken Sauce: Use chicken broth or bouillon as half the liquid. Add ¼ tsp poultry seasoning or sage, and diced cooked chicken if available




The following ingredients can be used to vary the flavors for other casseroles or your own creative concoctions:




curry powder

garlic, onion, celery salt

grated nutmeg

lemon jice

Worcestershire sauce

chili powder

chopped or blended vegetables

chopped parsley

chopped chives


The above information is adapted from More with Less Cookbook by Doris Janzen-Longacre. This is a classic cookbook I have relied on for years for basic, economical family oriented recipes.

Breakfasts for Busy Moms- Kicking the Breakfast Cereal Habit
The following recipe is from the new ebook Breakfasts for Busy Moms- Kicking the Breakfast Cereal Habit by Marilyn Moll

Zesty Baked Eggs
It's great to have a change from traditional fried or scrambled eggs.
Very yummy recipe from my mom. My children request this dish often.

1/ 3 Cup mayonnaise
1/4 tsp salt
1/2 cup milk
1/8 tsp pepper
1/2 tsp paprika
1/2 tsp Worcestershire Sauce
1 cup grated sharp cheese
8 eggs

Combine mayonnaise and seasonings. Gradually and slowly add milk stirring after each addition until smooth. Add cheese and cook over low heat until cheese is melted about five minutes. Pour 2 Tbsp of the sauce into each of 4 individual greased custard cups or small sized ramekins. Break 2 eggs into each dish. Top with remaining sauce. Place in 9 X 13 casserole dish and add boiling water to the casserole dish to about 1/3 to 1/2 full. Bake 15 minutes or until eggs are of desired consistency.


Broccoli Ham Casserole
BROCCOLI-HAM BAKE (12 servings)
4 cups broccoli, cooked and chopped
2 pounds frozen french fries
1 (10 34-ounce) can cream of mushroom soup
1 (10 34-ounce) can cream of broccoli soup
2 cups milk
2-3 cups ham, cubed
2 cups yellow cheese (any variety), grated
Spread frozen french fries in two greased (or sprayed) 9x13-inch baking dishes. Sprinkle chopped broccoli over fries. In a separate bowl, blend soups and milk; stir in ham; pour over fries and broccoli. Wrap baking dish; label and freeze. Place grated cheese in two small freezer bags and attach to baking dish with Broccoli-Ham Bake. To Serve: Thaw. Sprinkle grated cheese over top of casserole. Bake at 350° for 25-30 minutes.
This recipe is excerpted from Frozen Assets: Cook for a Day, Eat for a Month by Deborah Taylor Hough. $14.95 Retail. Published by Champion Press, Ltd.
For more information please email me at marilyn@urbanhomemaker.com or call me at 1-800-552-7323.