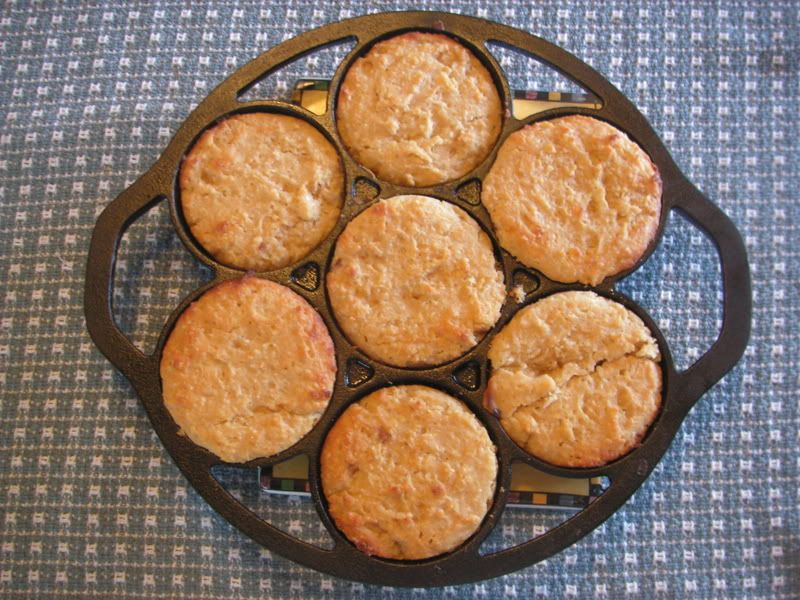 BUTTERMILK DROP BISCUITS
Very delicious and easy
2 Cups pastry or kamut flour
1 TB baking powder
1/4 tsp. baking soda
2 tsp. sugar
1/2 tsp cream of tartar
1/4 tsp salt
1/2 cup butter
1 1/4 cup buttermilk
In a bowl, stir dry ingredients together. Cut in butter to coarse crumb stage. Add buttermilk. Stir until just blended.
Drop dough into Drop Biscuit Pan or on cookie sheet to make 7 large biscuits. Fill quite full. Bake 15-18 minutes in 450 oven. Serve warm. Smaller biscuits will bake faster.
Optional: Add 2 TB finely shredded carrots, 1 TB snipped parsley or 1 TB chopped green onion
To maximize the nutritional value of these biscuits, use the two stage process by making the following adjustments:
Blend flour with melted butter or shortening and buttermilk till just moistened. Cover the top of the dough with plastic wrap to let stand for 12-24 hours which will neutralize phytic acid in the grain to release the valuable nutrients.
Then blend the rest of the dry ingredients ( leavenings, salt, sugar, and cream of tartar) into the dough. Proceed by dropping spoonfuls of batter on lightly greased cookie sheet or cast iron biscuit pan.