Using about 1 to 1 1/2 lbs leftover bread dough or
sweet roll dough, roll out a rectangular piece of Dough
approximately 12 " X 18". The dough pictured is Marilyn's Famous
whole wheat bread dough with sunflower
seeds in it, that is why it looks bumpy.

Spread the dough with 2 TB melted butter
close to but not all the way to the edge
of the rectangle. Then sprinkle with cinnamon/sugar
mixture. Use about 2 tsp cinnamon and 1/2 Cup
brown sugar or Sucanat.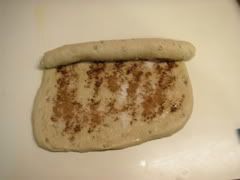 Roll up the dough along the 18" or long side for smaller
rolls with lots of layers. Or roll it along the short side for
bigger rolls and fewer layers. This example is rolled
along the 18" side.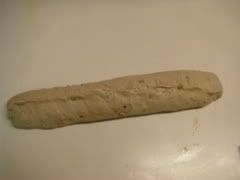 Seal the seam by pinching along the edge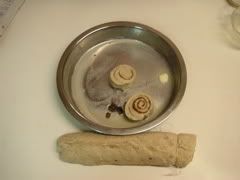 Cut 3/4 Inch Cinnamon rolls with an 18" piece
of dental floss and place in a greased baking pan.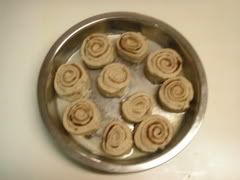 Fill Pan - space rolls 1" apart. Allow to raise until doubled in size-
30-60 minutes.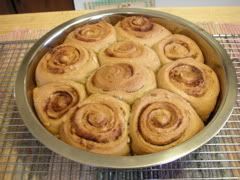 Bake the rolls until they are browned. Frost the rolls
with confectioner's frosting while warm, if desired.(The
frosting step is not pictured.